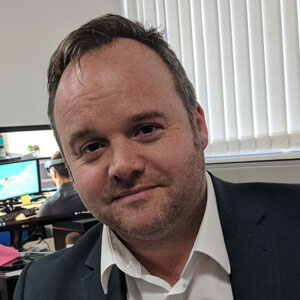 As the country entered into lockdown in March 2020, a vast number of industries switched overnight into a world of video conferencing and video calls thanks to new technologies to service the office environment.
In this article, Tim Luft (Director, TalkOut Group) explores whether COVID-19 could actually stimulate a much broader regional adoption of technology and how the region could do even more to embrace the Digital and Tech sectors post pandemic.
As we know Covid19 has completely changed the business landscape of the UK, we have become a nation of home workers, travel has been dramatically reduced and our daily lives now embrace hourly zoom calls.
As a Director of an innovative technology company based in the West Midlands, I know the team have experienced many calls from clients looking to embrace new technology in order to allow them to continue to deliver a service to their clients without the need for a face to face meeting. Whilst Zoom is great for an office-based role, when looking at more practical areas such as a physiotherapist looking to deliver therapy; something more interactive will be required. From a technology company perspective, these enquiries have the potential to shape new products of the future and could lead to a far more innovative use of technology going forward.
Could the change caused by Covid-19 actually stimulate regional adoption of technology, driving forward the so called 'fourth industrial revolution? We all know Zoom's share price actually doubled over a matter of weeks during the early stages of the lockdown, but what about our local technology industry, could this be their time to shine?
I believe the West Midlands could emerge as a lead across the UK if simple steps are put in place to support and promote our technology sector. These could include:-
A network of enterprise hubs to encourage tech companies to set up and grow
Scale up programmes to support cross sector collaboration between tech companies and other areas such as healthcare
Virtual events to promote the opportunity and identify skills in the region
The region boasts the most well-connected 5G network with grants available for companies who are looking to develop new, innovative content. The Midlands will also be hosting major events in the next few years – from the Coventry City of Culture to the Birmingham 2022 Commonwealth Games, these will be great opportunities to showcase new technologies to mass audiences as we start to return to the norm of large groups and gatherings.
Tech and digital is the fifth largest sector in the West Midlands economy with nearly 14,000 tech and digital businesses in 2016, 5% of the national total and more than any other combined authority area in the country. Birmingham is also the UK's premier centre for the sector outside London with just under 3,000 tech and digital firms. There are also significant numbers of tech and digital firms in Warwick (more than 1,000), Solihull (more than 900), Stratford-on-Avon (nearly 700), Wolverhampton (nearly 600) and Telford (nearly 500).
On a commercial basis our rail industry (including HS2) offers great opportunities for the tech sector, but this needs to be done in a safe way – could technology support us in re-engaging with public transport, it would be good to know how busy a train will be before it arrives and perhaps location based services could pinpoint users and inform them if a positive case of Covid-19 is identified on a specific train.
As we work together to overcome the Covid-19 pandemic, we should also take time to consider the mental health of our workforce, many employers were ill-equipped to address the mental health needs of their staff prior to the coronavirus pandemic and unfortunately the situation is going to be worse now. Understandably, businesses have a great deal on their plate as they try to recover from this crisis but if they don't seriously consider the mental health requirements of their people, they will quite simply have another crisis on their hands. This is certainly a space where technology such as Virtual Reality can play role as way to tackle stress.  The Talk Out Group recently launched an app based product for companies which encourages communication between a dispersed workforce, supports employee wellbeing and even uses Virtual Reality to take staff out to virtual mood rooms and relaxation areas without leaving the home.
From my experience, firms that are already using digital technologies are adapting better to the ongoing crisis, and others are rapidly looking at new tech-based solutions in response to challenges to their business models going forward.
Recent surveys through BT indicate that 20% of staff will remain at home even when the pandemic has receded.  As businesses reduce staff numbers in the workplace, I do believe we will experience an accelerating impact on the widespread adoption of high-speed connectivity (5G), sensor and smart tech 'internet of things' (IoT) technology, artificial intelligence (AI), Drone tech and robotics.
The danger here is that left unchecked, these technologies could widen a digital divide and displace staff, to tackle this we need to up skill our workforce in the new digital age and directly intervene to support technology for good programmes which have the real potential to make a difference and address key societal issues. Careers specialists tell us that 15 of the 20 top jobs in the next 10 years have not yet been invented so let's get our younger apprentices engaged and trained today ready to face the challenges of the future.
About Tim Luft:
Tim is a Digital Media Entrepreneur based in the West Midlands (Shropshire).  Tim's focus surrounds the roll out of virtual and augmented reality building on the expertise of the UK Video game and Film industry. Tim has run Academic Institutes which have researched the use of 3D environments for teaching and learning, here Tim built up his understanding of VR and AR technologies, more recently Tim established his own Virtual Reality development studio in the West Midlands (VR Simulation Systems), the company build world class enterprise training/ simulations applications and offers clients access to a technology showcase which provides hands on access to the latest advances in 3D simulation and virtual reality.
Tim sits on the Telford Business Board, he is a mentor for the DiT Global Entrepreneur Programme and a member of the Regional Innovation Steering Group. Tim is married with one child, Tim is a keen pilot and enjoys supporting entrepreneurs in commercialising their ideas.
Connect with Tim on LinkedIn