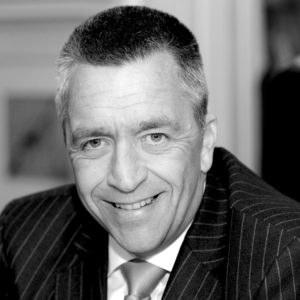 The COVID-19 pandemic has wreaked havoc across virtually every part of life as we knew it and reached almost every corner of the globe.  However, with everything in life, there are winners and losers.
In this article, 'Disruptive Pioneer' Peter D Warwick takes a look at who will come out of the pandemic perhaps even stronger than they were at the start.
I must admit I was surprised and somewhat bewildered when asked to contribute to this newsletter. With no historic interest in the work of lobby groups or think tanks, my initial inclination was to say: "no, this is really not something for me." But then I thought about the times we're living through.
In the six months since the start of the Covid-19 crisis, we've seen businesses and other organisations react rapidly. They have flexed, stretched and striven to reposition themselves to address new market realities. But here's the thing. We are all racing towards a distant finishing line marked 'recovery and prosperity.' The question is, who will cross the line and who will flounder? As an entrepreneur and disruptor who sees both the opportunities and challenges, I thought this would be a good time to give you my take on the runners and riders.
1. Banks
They've been here before in 2008, so naturally they are first out of the gate. But this time, rather than being bailed out by the government they've been told to throw a lifeline to suffering businesses. But the banks played it smart. Before reaching into their pockets, they insisted the government protect the risk. As old hands at this, their odds of coming at on top have to be 2/1
2. Retailers
Retailers have also been here before but this time they face a double whammy in the shape of lockdown and kick-ass online stores. Retailers are far from on form, although some – such as Philip Green – have been quick to hold their hands out for Furlough money, rates relief and other bailouts. A good each way bet at 6/1
3. Online Stores
Jockeying for position, we all know who they are and what they have achieved, Bezos has increased his wealth by tens of billions as a result of the pandemic. However, that doesn't dictate he, and other online stores, will romp home and position themselves as winners as they were capitalised ready to hit the turf when the gates opened. 4/1
4. Self Employed
The neglected backbone. The government were blinkered and forgot about them in the first tranche of rescue funding. Some will not return. The odds really aren't looking good for many at 10/1.
5. Big Corporates
With an enviable skill set at holding governments to ransom, some of these entities can give the banks a run for their money. Take British Airways parent, IAG and its leader Willie Walsh. Having failed to get his way in 2010 with the restructuring of cabin crew he swung the axe with a vengeance this time, paying off more than 10,000 – but not before securing hundreds of millions in furlough funding and spending a billion buying another airline. 5/1
6. Local Enterprise Partnerships (LEPs)
A possible non- runner, as the government's local mouthpiece, these are a curious lot. They are only occasionally heard of but when they speak it is through the mouthpiece of a finelytuned PR machine. They are the self-acknowledged saviours of local enterprise, but will they be winners in the pandemic stakes? Unlikely although, if their PR is anything to go by, they see a lot of deals. Many of these won't get LEP support but at least some will be spurred on elsewhere. 25/1
7. Future Fund
Another dark horse government agency and not one that enjoys a high profile- indeed just who knows about them is anyone's guess. As with other government agencies, it appears they like to be in and out without anyone noticing. With little form it is difficult to give odds therefore I have to place them at 20/1
8. Hospitality
My earlier career was in hospitality and as such, I feel the pain of these people. Well, the smaller traders – not so much Wetherspoons founder Tim Martin who should have provisioned for catastrophic circumstances such as a pandemic rather than being one of the first to berate the government. VAT relief, Eat Out to Help Out, along with the various packages given throughout the early months must have lifted the heavy burden on tenants who didn't know where their next rent payment or supplies were coming from. Unlikely winners but will get over the line. 8/1
9. The Government
The odds of the government winning this race are lengthening by the day. They have allowed the tail to wag the dog when it comes to the unity of the nation. How many times did Nicola Sturgeon disgracefully leaked information several hours before the daily circus of questions? The government's position could be categorized as damned if they do, damned if they don't. Witness the A-Level and GCSE debacle. The SNP control the Scottish Parliament. The Labour Party control the Welsh assembly. Nevertheless, both were quick to take the whip to Boris and company about the system as a whole, despite him not having anything to do with their jurisdictions. 18/1
10. China
When it comes to winning races – they will hardly make it out of the gate once this is all over. Handicapped with extra weight for spreading mistruths and damn lies their chances are slim to none. The next event may bring better odds but this time it has to be 40/1
11. Travel
The fall of the travel industry – across all of its divisions – has been incredible heavy going. High street agents, airlines, hotels, car hire and almost all those working in the industry have seen their revenues plunge. As they have found out, discounting and fine-tuning costs is not the best policy. As for the billionaire ex-pat airline owner Richard Branson – he doesn't help the cause one iota! Trotting in at the back of the field I'd give them 15/1
12. Zoom/Microsoft Teams
Racing fit and straight out of the gate when the pandemic started. These services, along with several smaller iterations, have certainly capitalised on the weakness of the field allowing them to become firm favourites especially as, along the way, they have changed the face of business. Not forever, but certainly allowing home working to hit its stride. 3/1
13. Landlords
Landlords- the smaller commercial ones, not the pension funds – have been treated badly. No rates relief on empty properties, no grants, no support. The lack of support may just take them out of the running before the end of the race. 30/1
14. The Media
There are two ways of looking at the odds on this one – were they entertaining, as they asked inane questions day after day or were they downright annoying? I would say it's the latter. The conglomerate media owners may have garnered millions more in advertising revenues but that won't stop them falling as they come out of the gate. Happily, vets will be on hand. 9/1
I have, of course, neglected to mention a group of people who have been at the centre of the storm during the pandemic – namely the key workers, particularly those employed by the NHS, who have delivered our frontline services. That is deliberate. No one can question their commitment and dedication. Beyond that, I am not qualified to comment, other than to say – thank you.
Winners Enclosure …..
But in the end, post-pandemic success is all about individuals, not sectors, form or racing metaphors. Everyone has an opportunity to excel and succeed. Effort and determination will always prevail even those where there is apparently no hope. Witness – He Knows No Fear, the 300-1 outsider that recently made history with a win at Leopardstown. https://bbc.in/34eidTk
The Covid-19 Pandemic has devastated many people's lives and businesses. But we are British, and we have the inbuilt ability to strive for a brighter future. Who are your winners and losers – I would be intrigued to hear of them.
About Peter D Warwick
A disruptive pioneer, Peter D Warwick cut his entrepreneurial teeth in the leisure sector before achieving international success in the international direct mail and telecoms industries. Today, he invests in property and intellectual property-based business through his City Capital Ltd vehicle.
Committed to working with a small team and doing business differently, Peter's focus is on finding commercial models and unexploited market opportunities. Preparing for the future, City Capital has spent the Covid-19 Lockdown working on plans to offer a mentoring and internship programme to talented graduates who will be rewarded with
equity and options allowing them to take structured control and run the business they are mentored in.
For further information, please visit www.DisruptivePioneer.com or PDW@xcas.com
Connect with Peter on Twitter
Connect with Peter on LinkedIn