On 6 May 2021, voters in the West Midlands will have their say on who represents them at local council level; who will be the new Police and Crime Commissioner and who will be the next Mayor of the West Midlands.  In our series of election specials, we hear from the candidates who want your votes.
Election of 'Mayor for the West Midlands Combined Authority (WMCA)'
Thursday 6th May 2021
An article from Andy Street – the Conservative Party candidate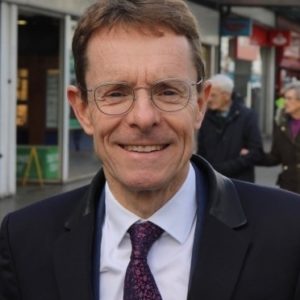 The people of the West Midlands are about to face a critical choice: do we accelerate the progress of the last four years, or do we go back to the old failing approach which led to decades of decline for our region?
Before COVID struck, the West Midlands had begun to reclaim its rightful place as an economically successful region, after decades of stagnation. As we come out of the pandemic, there is much to do to ensure we don't throw away those years of progress.
My manifesto sets out in detail how I intend to get the West Midlands back on track and unleash our region's potential. I want to use this column to outline its key aims, which are both ambitious and practical.
The significant strides made here since I was elected Mayor on 4 May 2017 are borne out by the statistics.
From 2017-2020, a record-breaking 48,098 homes were built here, nearly double the 25,000 target set in 2017. Rough sleeping has dropped by 65% since 2017, with 377 homeless people helped through our pioneering Housing First scheme.
This year, the level of transport investment was seven times higher than in the year before I became Mayor. More than 97,000 new jobs were created in the region overall in the three years before the pandemic, the most of any region outside the capital.
Over £3 billion of new funding was brought in from Government, with no Mayoral precept added to council tax bills.
On top of that, our region won backing for Coventry City of Culture, Birmingham Commonwealth Games 2022, the West Midlands 5G testbed, and High Speed 2 to bring investment and jobs.
However, our region has been hit hard by coronavirus. Sectors like retail, hospitality and manufacturing have seen thousands of workers laid off or furloughed. We must act quickly to get back on track.
That's why my first priority will be to create more than 100,000 new good quality local jobs and training opportunities for local people.
That means winning every possible contract for local businesses from major regional projects like HS2, the Commonwealth Games and Coventry City of Culture.
It also means securing an electric battery Gigafactory for our region, bringing 4,000 new jobs and protecting thousands more in the automotive industry and supply chain.
I want our region to become the national leader in construction, engineering, life sciences, technology, 5G and other growing industries. And we have already seen announcements to move hundreds of well-paid civil service jobs out of London and into the West Midlands, starting in Wolverhampton and Birmingham – creating local job opportunities and boosting the economy.
I have plans to double transport spending to half a billion pounds per year. My vision is to build new metro stops across the region, as well as reopening five rail stations in the next three years, while making progress on eighteen other new stations.
Transport will play a key part in my green ambitions too: with plans for a major programme of cycle routes, while the full roll-out of our version of Boris Bikes has already begun.
On the buses, we'll build on the success of the four-year bus fare freeze, and roll out more hydrogen and electric buses including making Coventry's fleet all-electric.
On housing, I will build thousands of new homes where they are wanted. That means continuing to drive our successful "brownfield first" approach, with over £400 million of funding to reclaim derelict sites, protecting our Green Belt and green spaces.
Affordable homes are a key component of the plan, too: I will seek an ambitious Affordable Housing Deal to bring new cash to the region and pioneer our own "Help to Own" scheme to make home owning possible for more people. We will also continue our progress on reducing the numbers of rough sleepers.
On the environment, I will launch a huge programme to retrofit people's homes with energy efficiency measures to reduce fuel bills and carbon emissions, while investing in nature, from replanting trees to creating a new National Trail for walkers around the Green Belt of the West Midlands. I will work with Government to fund more initiatives like the Black Country zero carbon hub, to help industry move to green technology.
I will use a business-like approach to tackle the challenges facing the high street. Our town centres have already won over £100 million of Government funding, benefitting places like Brierley Hill, Rowley Regis, Smethwick, West Bromwich, Walsall and Wolverhampton.
City centres like Coventry, town centres like Dudley and villages like Kingshurst will all benefit from our own major regional investment plan.
I'm backing bids to regenerate iconic local sites too, like the historic swimming baths in Erdington, the Royalty Cinema in Harborne and Saddlers Quay in Walsall to become community and enterprise hubs, and where distinct areas such as Solihull and Sutton Coldfield have developed their own town centre masterplans, I will use the power of the Mayor's office to help make their visions become reality.
The heart of my approach as Mayor has been to ensure that every community benefits from the region's success – localised 'levelling up'. That means maximising the benefits of Coventry City of Culture in 2021, the Birmingham Commonwealth Games in 2022 and High Speed 2, with jobs for local people and investment across the region.
It means supporting those who need extra help, for example "designing out" homelessness by addressing its causes. A new Equalities Taskforce will ensure the West Midlands is a great place to live, work and grow up for all our communities. I will work with Jay Singh-Sohal, the Conservative candidate for West Midlands Police and Crime Commissioner, to make our communities safer and get crime down, particularly on the transport network, while providing opportunities for young people so they don't get drawn into crime.
These are just some of the ambitious plans I am putting to the people of the West Midlands, as we face a turning point in our region's story. On 6 May, voters in the West Midlands face a choice that will define the future direction of our region.
My message is simple: I have a credible delivery plan to make all of this happen, and a proven track record over the last four years, beating our targets and other city-regions on investment, skills and housing.
My commitment is to secure £10 billion of new investment into the region, from both the Government and private investors, with a clear approach to the Mayor's role as a regional champion. That means working with Government to make things happen, rather than criticising and grabbing headlines, and then being ignored.
This is the region where I grew up. Its values shaped me as a person – that's why four years ago I decided to step away from a career in business and stand to be Mayor. Before the pandemic hit, the successful renewal of this region was underway. I urge the people of the West Midlands to choose me to get on with the job, get this region back on track and unleash our potential.
About Andy Street
Andy Street was elected as the first Mayor of the West Midlands on May 4 2017. The primary function of the role is to chair the West Midlands Combined Authority and brings with it significant powers over transport, housing, skills and jobs.
Before becoming Mayor, Andy combined a career with John Lewis, Britain's most successful workers' co-operative, with a host of high-profile economic development roles, working with local and national government.  Starting on the John Lewis graduate scheme, Andy rose through the ranks to become Managing Director, overseeing one of the most successful periods in the company's history. He was the Chair of the Greater Birmingham & Solihull Local Enterprise Partnership between 2011 and 2016, helping to build the relationships that have underpinned the economic growth of the region. Additionally, he has been lead non-executive director for the Department for Communities and Local Government as well as a member of the Prime Minister's Business Advisory Group.
Outside of work, Andy is passionate about the arts, particularly in the West Midlands, having previously served as Vice Chairman of Performances Birmingham Limited, which is responsible for running the City's Symphony and Town Halls.
In June 2015, Andy was awarded the CBE for services to the national economy. He was named the 'Most Admired Leader' of the year by business magazine, Management Today in 2014. He received the 'President's award' from the Greater Birmingham Chambers of Commerce in for his work in the region. He holds three honorary degrees, from Birmingham City University, Aston University and the University of Birmingham.
Connect with Andy on LinkedIn
Follow Andy's campaign on Twitter