On 6 May 2021, voters in the West Midlands will have their say on who represents them at local council level; who will be the new Police and Crime Commissioner and who will be the next Mayor of the West Midlands.  In our series of election specials, we hear from the candidates who want your votes.
Election of 'Mayor for the West Midlands Combined Authority (WMCA)'
Thursday 6th May 2021
An article from Jenny Wilkinson – the Liberal Democrats candidate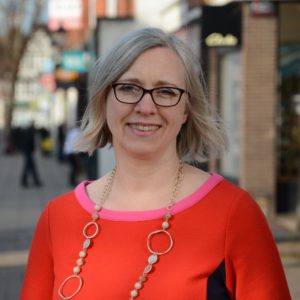 I believe it is time for a new approach to politics, both across the West Midlands and at a national level. People are tired of the cronyism and corruption in Westminster; they are tired of remote politicians telling them what to do; they are tired of not being listened to. As Liberal Democrat candidate for West Midlands Mayor, I offer a real alternative.
My term as Mayor would ensure compassion for the people, communities, and businesses of the West Midlands. Caring is not a soft option – by caring for our future, as we emerge from the pandemic, we can be bold, innovative, and build from recovery to sustainable, inclusive growth for all of our region.
Clearly, the first priority for the new Mayor must be to recover from the pandemic. As you will of course be aware, the West Midlands is the region of the UK that has been worst hit by the pandemic. Certain sectors have been particularly badly hit by the lockdown measures – retail and hospitality are widely recognised to be struggling, but it is also important to highlight the events and live entertainment sector, which is especially important for our region. In particular, we must not forget our small businesses, entrepreneurs and freelancers, many of whom have missed out on vital support from the Government. And, at the same time, our businesses are also suffering the impact of Brexit, with the additional bureaucracy and red-tape that this has led to.
It must be a priority for the Mayor to rebuild the economy across our region and get business open and people back into work. All the Mayoral candidates are united in the view that the green economy is going to be key to rebuilding, but we also need to remember that we are in a different world now and we are never going back to how things were before.  We can and must grow from this experience and see this as an opportunity to do things differently.
I have set out three overarching principles that thread through my approach and would inform my policy-decisions as Mayor.
The first of these is Empowering People and Communities. People are tired of politicians imposing decisions on them and I believe we can achieve so much more when we listen to people's lived experiences and involve them in the decisions that affect their lives. I want to see residents, community groups, businesses, the public sector and experts all working together to address the challenges we are facing. I am looking at citizens' assemblies, genuine public consultations where we listen to people and act on what is heard, rather than it just being a tick-box exercise, and equality impact assessments for new policies. I want to be a voice for all the residents of the West Midlands.
My second priority is Tackling Poverty and Inequality. The pandemic has had a huge impact across the West Midlands in terms of health, mental health and the economy. Particularly troubling has been the light the pandemic has shone on the huge inequalities across the region, with poorer households, people of colour and the disabled being far more significantly impacted than more affluent and privileged groups. As we come out of these difficult times, I want to build a stronger and fairer community across our region. I see Universal Basic Income as a key means of tackling poverty, alongside implementing a Real Living Wage and an urgently needed housebuilding programme, with a particular focus on housing for social rent.
And finally, I want to Build a Green Heart of England. The West Midlands should be at the centre of the green revolution, which provides a huge opportunity to revitalise our manufacturing sector, developing new technologies for the green industries of today and tomorrow. I am also focussing on building green infrastructure – including a zero-carbon, integrated transport network and sustainable housing – alongside taking action to develop a network of green spaces, supporting biodiversity as well as recognising the mental health benefits that access to nature will bring.
Those are my three overriding strands. Let's look, illustratively, at how that translates into policy. I am going to consider transport here, as one of the key areas of mayoral responsibility.
Fundamentally, we are faced with a situation where our transport systems across the region are inadequate, meaning that cars are seen as a necessity for many journeys. This in turn has made air pollution – mostly caused by cars – one of the biggest causes of preventable illness. The transport strategy for the West Midlands should be designed to ensure the preferred mode for many journeys is not the car.
For that we need a wholesale change in behaviours and this links to the theme of Empowering People. We need a carrot and stick approach: on the one hand, communication and education plays a big part in encouraging people it is the right thing to do and local government has a role in making the "right" choices as convenient as possible for people; on the other hand, we need measures which discourage car travel. Tools like clean air zones and low traffic neighbourhoods have a place, but those solutions can only work in conjunction with investment in alternative modes of travel and, importantly, with appropriate consultation with residents. We need to engage and involve the public in finding travel solutions which provide cleaner air, move us towards net zero and work for the residents of the West Midlands.
In terms of Tackling Poverty and Inequality, affordability and accessibility are key. Costs of travel can be managed through simplified ticketing across the whole West Midlands transport network, including part-season tickets, reflecting the increase in home-working and more use of digital ticketing, "tap in and tap out", and "multi-modal" fare options. We need to ensure transport links serve people with additional accessibility requirements, such as people who have mobility issues or mental health needs, and provide appropriate support for neurodiverse people.
A commitment to making our transport systems more environmentally friendly and cutting air pollution are tied into Building a Green Heart of England. Green technologies have an important part to play, both in moving to electric cars, but also in electrifying the rail and bus networks, as well as exploring hydrogen and bio-ethane options. I believe that we should also prioritise and encourage active travel. We need dedicated safe cycling lanes, re-modelled cycle and pedestrian priority junctions, increased space for pedestrians and a 20mph speed limit in urban areas. And, finally, we need to look at how we integrate green infrastructure into the design of our travel networks, such as the development of wildlife corridors, green bridges and eco-tunnels.
Fundamentally, I believe that our whole approach to recovery and redevelopment across the West Midlands needs to concentrate on the needs of the people of the West Midlands, whilst also protecting our natural environment. We should be building communities, not just functional places.  It feels like there is a lot to do!
My message this election is clear: we need new ideas, new leadership and a change of direction. Let's work together to build a greener, fairer and more compassionate West Midlands. 
About Jenny:
Jenny grew up in the West Midlands and is now bringing up her own family here.  She stood as the Liberal Democrat candidate for Sutton Coldfield in the 2017 and 2019 General Elections, as well as being a candidate for the European Parliament in 2019. Professionally, she has worked for over 25 years as a Chartered Accountant and business consultant.
Outside of work and politics, Jenny is actively involved in her local community, as a Governor at a local infant school, Trustee of a Charity which she founded with colleagues to save and support her local library and on the committee of the support group for her local park.
Follow Jenny on Twitter