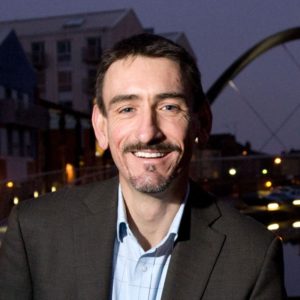 In this article, Ian Harrabin MBE (Managing Director of regeneration specialist Complex Development Projects) considers how the West Midlands can capture the opportunities generated by the fallout from COVID-19 to repurpose and revitalise our urban centres.
As the slow war of attrition on the high street by online shopping fast forwards during lockdown, the future of the West Midlands' urban centres is a hot topic for both the region's government and development industry.  Without doubt there has been a step change in society, in the way we work, the way we communicate and the way we shop.  When the pandemic is finally over, we will not go back to the old normal.
The security of income from real estate let on long leases to major retailers and corporate office occupiers (covenant strength) has been a foundation stone of the investment industry in the post war period.  High rents and business rates have milked the fat cow of retail for our pensions and the Government's coffers, but it is obvious that if the cow isn't already dead, it is seriously sick.  With interest rates likely to remain at an all-time low indefinitely and stock markets taking a hammering as businesses adjust, there are few ways to replace this once secure income.  It is likely that the syndication of income from a lot of small tenants will become an established investment class, following the burgeoning growth of student accommodation and 'build to rent' housing.
Retail in particular will never be the same again, but interestingly the out of town retail park, the old nemesis of town centre retail, will suffer most as the big boxes become more and more redundant.  Office based working is also changing as businesses and staff recognise that much of the work can be done from home.  The visit to the office is likely to become part-time for many, rather than the daily 9 to 5, and this signals a more localised future, with people working from home for much of the time, and therefore far more likely to seek human interaction in their local centres.
It is likely, for both retail and office property sectors, that the town centre will to end up winning what has been a long battle against out-of-town.  As trips become far less due to 'need and purpose' and far more about 'experience and human interaction', urban centres have so much more to offer.  Also, as we move towards a low-carbon future and public transport improves, town centres will become more accessible and are inherently more sustainable.  The boost in cycling and investment in cycle lanes only enhances this.  The pioneering work being done in the West Midlands on very light rail electric trams is a vision of a town centre connected future.
The question now has to be how we capture the opportunities generated by this major period of change to repurpose and revitalise our urban centres.
The Opportunities
Whilst the fire of COVID still rages, the green shoots are already showing.  At Fargo Village, my company's creative marketplace in Coventry, we are seeing a four-fold increase in demand for small units.  Local agents similarly report high demand for small shops for independents and for small offices.  It is clear that many people who are either: furloughed with time on their hands; becoming used to working from home; or worried about job security are now considering starting up their own business.  Could the pandemic really be sparking entrepreneurship and signalling the rise of the SME?
Heritage and distinctiveness
The built legacy of the region's past plays a major part in what makes our centres distinctive.  Yet rather than being seen as an asset, it has been perceived as a barrier to large scale retail redevelopment and too often demolished with dull 'same town' results.  Older buildings are on a smaller scale and much more suited to the small and specialist businesses that we will need to morph our centres into multi- purpose SME and leisure magnets.  Repurposing older buildings, including those of the post war period which are now being recognised as cool, is often cheaper and always more sustainable than building new.  Once restored, our heritage both ancient and more recent, can provide the photogenic distinctiveness that is key to growing the internal UK visitor economy – likely to continue to grow in importance, even after overseas travel restrictions are lifted.  The younger generations are far more like to be attracted to post-industrial Digbeth and Mid-century Coventry than the tourist centres of Stratford and Ironbridge.
Pre COVID research has already proved that traditional heritage centres are more economically productive and attract higher levels of independent businesses.  Yet neither the property industry nor the Government agencies have really capitalised on this potential.  Government, in particular, puts everything into silos.  The heritage 'industry' is still very much a do-good charitable pursuit, pioneered by determined but inexperienced community members, and supported by over-involved grant giving bodies with little economic expertise.  Nothing happens on any scale, nor very quickly, although it is worth keeping an eye on Coventry Council's pioneering work with Historic Coventry Trust – a business led charity on steroids taking on the biggest ever transfer of heritage assets in UK history.  The Trust's £30m regeneration programme will have a major impact on Coventry's chutzpah in its City of Culture year in 2021.
Meanwhile the planning system isn't up to the task ahead either. The regulatory system applies use-based policies over the whole local authority area, with little to no emphasis on the individual distinctiveness of the urban centres.  This needs to change with a new emphasis on reuse of buildings and new development that reflects the 'Distinctiveness of Place'.  A big mistake will be for the new mixed-use developments that inevitably are coming next to not reflect the locality – 'same town' will continue.  Planning needs to focus on quality, with the major changes that are to come being managed by a properly resourced economic development and planning system at a local level.  What it doesn't need is the currently planned 'one size fits all' Central Government changes that see removing planning control as the solution, which could cause more harm than good.  Recent freeing up of change of use from offices to residential has seen secondary office buildings that would have been perfect for SMEs on low rents converted to poor quality housing.  Similarly, the planned easing of change of use from retail could create a patchwork of dead frontages that compounds the decline of the high street.
Bringing back high-income residents
Our urban centres used to be vibrant places where everything happened.  People lived, worked, shopped and played cheek by jowl.  The post-war flight of wealthier residents to the suburbs took away their spending power.  The recent revival of inner Birmingham as a place of choice to live, indicates the potential to bring people back.  Other cities, Coventry and Wolverhampton in particular, have seen the impact that large numbers of students can have on high street vitality, yet have yet to recapture the more mature urban resident.  Blanket planning policies are a major brake on the growth of a wealthier urbanite community and need to change.  Developing urban housing is expensive, both in land and construction cost, compared to out of town but suffers the same policy contributions to affordable housing, education and health that can add over 10% to cost.  Inevitably these are never paid in full, if at all, but it involves a painful and lengthy process of appraisal to prove 'viability issues' which at best slows up the process and at worse kills the initiative.
The other issue is the strict definition of town centre boundaries, invariably tight around the retail core and set up to protect it against out of centre competition.  Whilst sensible for retail, these boundaries are also invariably applied to other use classes in particular offices and residential.  The definition of the town centre area for high density residential development and offices needs to be expanded to the walking hinterland.  It is madness that the density, overlooking and parking requirements applied to edge of conurbation greenfield development is also applied to development within a 5 minute walk of the retail core.  Our urban centres need to grow their wealthy inhabitants, not just on top of the shops, but within their immediate hinterland where there is far more land for development and the ability to provide a better quality of life to attract a wider range of residents.  Investment in public realm needs to continue to make these city fringe areas desirable.
I have been working for over 35 years in partnership with Government regenerating our urban centres and never have I seen a time of such opportunity.  The West Midlands town and city centres need to change and we should embrace this. Managed properly it will make them much more interesting and vibrant places – the days of 'same town' are on the way out.  Future vibrancy will depend very much on turning back the clock and rediscovering the multiplicity of uses and activities that make European cities so attractive to visit.  But we need to ensure the systems are in place and the planning and economic development services are properly funded to both capitalise on and manage this change and to do it quickly.  If there is one thing I have learnt, it is that decline and dereliction breed decline and are very hard and costly to reverse.  We need to act now, capturing the moment, to herald a new era of Midlands pride, but if we don't it's going to take a very long time and a lot of money to put it right.
About Ian Harrabin MBE
Ian Harrabin is Managing Director of regeneration specialist Complex Development Projects, Chair of Historic Coventry Trust and Board Member of Coventry City of Culture Trust.
He was awarded an MBE in 2018 for services to heritage and regeneration in Coventry.
Connect with Ian on LinkedIn