The Centre for the New Midlands has appointed a number of the region's leading professionals to its newly formed Strategic Advisory Board, to help shape its vision and oversee its governance.
Formed shortly before the March 2020 Covid-19 lockdown, the West Midlands based think tank has developed its work across its two initial workstreams ('Housing and Communities' and the 'Digital environment') and has now announced the team who will support the next phase of the organisation's development, with a particular focus on raising profile and links across the breadth of the West Midlands region.
Appointments to the Advisory Board, which will be led by Professor Majid AlSadi (the think tank's President and Chairman of Eastern Holding) include Sarah Perry (former managing partner of a large regional law firm and Deputy Under Sheriff of the West Midlands), Dan Barlow (CEO of Kagool) and Amardeep Gill (Partner, Trowers & Hamlins) who will provide regulatory and industry experience.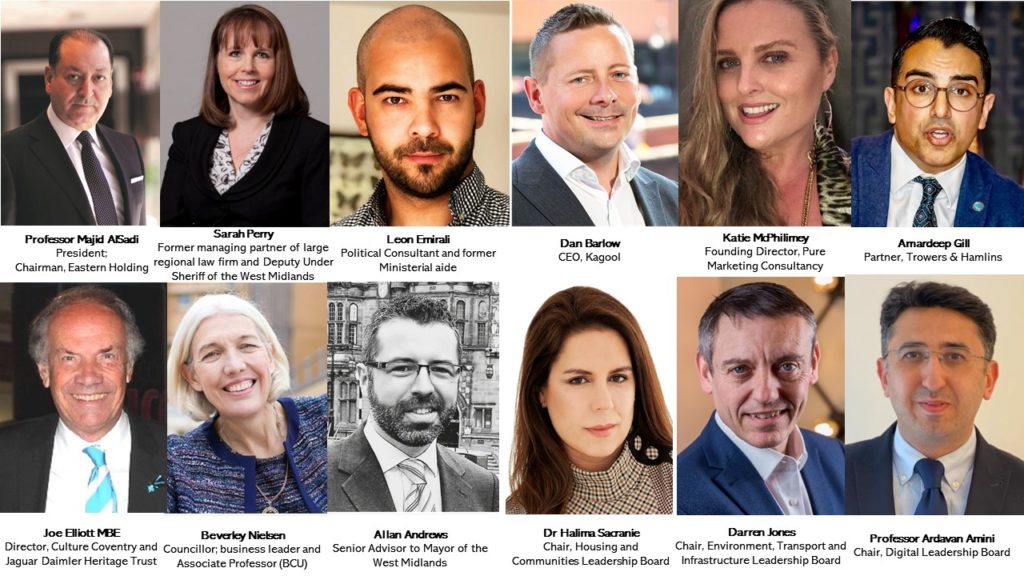 The Board also welcomes Allan Andrews (Senior Advisor to the Mayor of the West Midlands), Cllr Beverley Nielsen (councillor, business leader and Associate Professor, Birmingham City University), Katie McPhilimey (Founding Director, Pure Marketing Consultancy), Leon Emirali (Political consultant and former Ministerial aide) and Joe Elliott MBE (Director, Culture Coventry and Jaguar Daimler Heritage Trust) to its ranks.
Chairs of the think tank's Leadership Boards (who focus on the key areas of research) complete the Board's membership, with Professor Ardavan Amini (Chair of Digital'), Dr Halima Sacranie (Chair, 'Housing and Communities') and Darren Jones (Chair, 'Environment, Transport and Infrastructure') joining the team.
Chris Smith, Founder and Managing Director of the think tank commented,
"I am delighted to be welcoming such an exceptional group of individuals to help develop our work and deliver on our aspiration to be one of the most influential policy organisations in the United Kingdom.  It is a pleasure to be working alongside a team of such fantastic individuals as we look to help shape a 'better' West Midlands region for all".
Professor Majid AlSadi added,
"Having studied for my PhD and even set up my very first business in the region, I have extremely fond memories of my time in the West Midlands.  I am so pleased to be working alongside such a distinguished group of business leaders who want to see the region thrive. The region has so much going for it and we look forward to playing our part in helping it get even bigger and better".