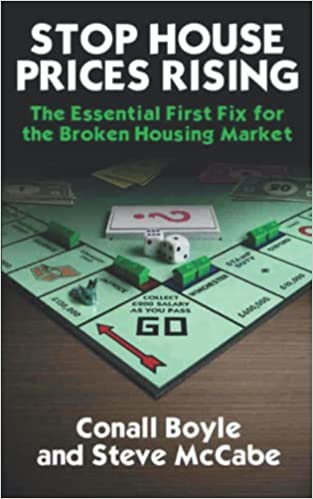 WIN A COPY OF 'STOP HOUSE PRICES RISING!: THE ESSENTIAL FIRST FIX FOR THE BROKEN HOUSING MARKET'
All you need to do is sign up for our monthly News and Views by 5pm on Friday 18th March 2022 to be in with a chance of winning one of five copies of the book (RRP £8.99) that we have to give away!
The draw will take place on Monday 21st March and winners notified by email.
All of our current News and Views recipients will automatically be entered into the draw – good luck everyone!
About the Book:
Written by Dr Steve McCabe (Member of our Housing and Communities Leadership Board) and Conall Boyle, this book focusses on just one topic, how to stop house prices rising faster than inflation generally, and at the very least, to ensure they do not rise faster than the average income of working people. This must be the overriding priority. Naturally, the vexed question is, of course, how? The authors don't just describe the problem in graphic detail and explain why it is as it is – they also propose solutions that are far reaching, innovative and hugely significant, based on the most successful approach in the world.
There are many things wrong with housing in the UK. Houses in Britain are some of the smallest in Europe. They are poorly built and the vast majority are unable to cope well with climate change. As regular news reports suggest, new-built houses are frequently fault-ridden. Where housing is needed most, there's an inadequate supply. The great dream of a 'Home-Owning Democracy' which Prime Minister Margaret Thatcher so eulogised in the 1980s has been fading away for decades; owner-occupation reached a peak in 2003. Modestly well-off older folk live in fear that their houses may be seized to pay for their care. The young are increasingly concerned they'll never be able to afford to get on the 'housing ladder'.
There's universal agreement that the British housing market is broken and urgently needs fixing. However, while house-prices keep rising these problems will worsen. Rising prices makes almost any kind of home unaffordable, even those for those on average incomes. Older homeowners find their accumulated equity is needed to help their children buy their own home, the so called 'bank of mom and dad'. Any notion of retirement in comfort continues to be a dream. Successive governments have viewed houses as 'cash cows' and the increased equity is used for social care costs. Recent attempts to resolve the conundrum of how to pay for care has merely tinkered. Cynics suggest the political consequences of confronting rising house prices are considered too great.
This is an important, timely and challenging book that is an essential contribution to solving the issues – and to stop house prices rising in the UK.