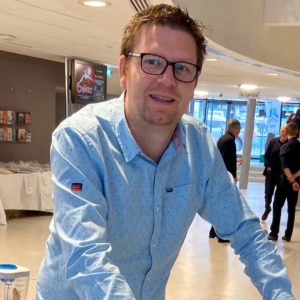 In this article, Pete White (Director of 'The Web Orchard' – a Shrewsbury based, award-winning digital agency) looks at the effect of COVID-19 on the digital sector and the opportunities that an enhanced uptake of e-commerce could bring to businesses and UK plc.
In March 2017, the UK Government published its Digital Strategy1, which covers a broad array of digital considerations including connectivity, digital skills, digital start-ups and security. Section 4 talks about ways of helping every British business become a digital business; an area which takes additional importance due to the COVID-19 pandemic.
This spurred a number of initiatives aimed at helping close the digital skills gap and encouraging digital adoption. One initiative is the Productivity Council, established to drive engagement with business and improve productivity through appropriate use of digital technologies, whether this be maintaining an online presence, adopting cloud technologies or selling online.
In 2018, E-commerce in the non-financial sector contributed £688 billion to the UK Economy, rising from £582 billion in 2017 (ONS2). Given the general upward trend and with the Covid-19 pandemic it's not hard to imagine this topping £1 trillion this year.  Many businesses do e-commerce very well, in fact in 2018, 20.5% of turnover of businesses with 10 or more staff was done online (ONS2).
However, this still leaves almost 80% of business done through traditional means so it begs the question what is holding business back? Why are businesses not as digitally focused as they could be?
There are a number of reasons:
They lack the skills or know how in either setting up an online shop or how to manage the marketing aspects.
They've dipped their toes in to e-commerce in the past but didn't have the success they were expecting or got burnt by an agency who didn't fully understand their market or offering.
The perception that their customers are not online or looking to buy their products online.
A general low priority afforded to digital transformation.
COVID-19 has presented a unique opportunity, people are having to buy more online. In the online grocery market alone, there is expected growth of 35% to £16.8 billion in 2020 (Mintel3) with other sectors following similar trends.  So what are the reasons for businesses to re-evaluate e-commerce?:
Improved technology – the systems and devices we use have improved massively over the past 20 years but a few key areas have specifically helped e-commerce:
Smart phones and responsive websites – with smartphones in almost everyone's pockets, people have the means to easily buy online wherever they are. This coupled with the move to responsive web design means that sites are designed for a range of devices and screen sizes. This has helped improve usability and as a result conversion rates
Better e-commerce platforms – many of the large e-commerce providers such as WooCommerce, Shopify & Magento have become mature platforms. They support all the common features people need to sell online and are expandable into many complex and niche scenarios. This coupled with improved back end systems for functionality such stock management and CRM has made the whole process much smoother.
Improved security – a focus on security across all aspects from payment gateways, browsers, operating systems and e-commerce platforms. This has helped give confidence to consumers.
Decline in physical shop usage – the high street has taken a beating throughout the Covid-19 crisis:
Shops have been closed or have reduced capacity & opening hours.
A change in the way people work; more people are working from home and not in tows and city centres.
Older generations being forced to adapt through shielding.
More accessible ways to reach customers – mature online advertising platforms such as Facebook, Google Ads and LinkedIn make it much easier for businesses to reach their target audience.
So what is next?
The shift in consumer behaviour may have long term lasting impact. Habits that people pick up and the ease of shopping online is likely to represent a permanent change. E-Commerce was a growing area already and it looks like this trend will continue and accelerate.
The UK is well positioned with expertise in selling online across the country and the UK government has identified the Digital Economy as a key growth area to support. Consumers are more willing than ever to use e-commerce and improved platforms have made setting up a site easier than ever.
If successful, increased digital adoption could play a crucial role in closing the UK's productivity gap with its peers.
https://www.ons.gov.uk/businessindustryandtrade/itandinternetindustry/bulletins/ecommerceandictactivity/2018
About Pete White
Pete White runs an award-winning digital agency based in Shrewsbury. The Web Orchard has 15 years of website & e-commerce experience and has worked for national and international companies and organisations.
Connect with The Web Orchard on Twitter
Connect with Pete on LinkedIn