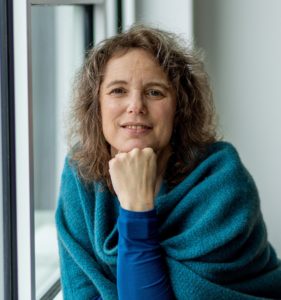 "Whilst the lack of investment in this region in previous years has held us back, paradoxically this could provide the West Midlands screen industries with a big opportunity."
In this article, Alison Grade (Author of 'The Freelance Bible; CEO of Mission Accomplished and Member of Digital Leadership Board) argues that now is the time for the West Midlands to throw out the old rule book and think big in order to build on recent successes.
It's true to say that the Birmingham production scene is the busiest it's been in many years, so much so that I now need two hands to count the number of drama productions that are filming in the region this year. And whilst that may sound a little facetious it very much is a sign of the momentum growing within the regional screen industry.
Film and TV is an unusual beast, comprising primarily a mobile and freelance workforce, that is tightly structured and hierarchical. Production heads rely on networks of freelancers whom they bring together to realise a production. Many of these moves from production to production as a group. Add into this if a production has a good experience in a region, they've now got lots of knowledge of how it all works and a great team so it's an easy decision to stay put and make their next production there. Thus, once a region gains momentum it can quite quickly become self-sustaining.
The challenges come when more and more productions set up shop and there simply aren't enough people locally to crew up all the shows. And whilst there may be budget available for senior team members to stay in hotels that doesn't cascade down to the more junior and entry level roles.
Whilst the lack of investment in this region in previous years has held us back, paradoxically this could provide the West Midlands screen industries with a big opportunity. No legacy infrastructure or modus operandi means we can re-imagine how the industry works from the ground up in a way that fits with our West Midlands flavoured secret sauce. Not forgetting that this sector is growing nationally.
A recent forecast of film and high-end TV production growth and skills needs published by ScreenSkills finds:
Film and HETV production likely to hit between £7.07 billion and £7.66 billion by 2025
Between 15,130 and 20,770 additional crew needed to meet demand
The opportunity is now. We need to throw out the old rule book and think big.
What are our strengths?
Age – Birmingham boasts the youngest, most diverse population in Europe, with 42% of the city made up of non-white ethnic groups.
Location – the region is centrally located meaning a highly mobile workforce can travel in from a wide number of nearby production hubs including; Bristol/Cardiff to the South; Manchester/Leeds to the North; Pinewood/Leavesden to the South East.
Connected – Create Central, the industry body for the West Midlands, has enabled the region to connect nationally with key stakeholders and locally has championed the growth opportunity with policymakers.
Secret Sauce – In region we have vibrant clusters of creative and digital activity across the region, from a globally respected games cluster, Silicon Spa, in Leamington to a thriving brand content cluster making brand content that reaches tens of millions daily. Add to that growing immersive and animation sectors and mixing it in with inspiring arts and cultural activities gives the West Midlands a unique lens and perspective to re-imagine what a creative and digital sector could be.
What are our weaknesses?
Location – the downside of a central location means that the large warehouse type space, that makes good studio space, is harder to come by and expensive, since potential sites are in demand from logistics companies servicing our ever burgeoning online shopping demands. Add to this that in the move out of London by national broadcasters our central location is often considered 'too close to London' and we are bypassed on the way North to Manchester or Leeds.
78% say work intensity has negatively affected their mental health
10% of respondents agree that the industry is currently a mentally healthy place to work.
Hardly surprising that people are struggling when filming schedules are regularly 12-hour days 5 or even 6 days a week. These are primarily freelance crews, with little job security and therefore little power to negotiate.
Getting started – we don't make it easy for new entrants to access the industry. That's not a new issue nor is it solely a local issue. It's a nationwide, if not a global, sectoral problem. Here in the UK ScreenSkills does great work to provide information, support and training to break down these barriers but there is still much work that can be done, especially locally.
We have an impasse where new entrants find it extremely tough to navigate their way into the industry and productions crewing up finding it equally tough to find them.
Invisibility – on a more local level in the West Midlands the under investment in the sector over many years has meant that what little production activity that has taken place has been largely invisible to those outside the sector and/or looking to enter. It has therefore not been perceived as a possible career option locally for many.
What are the opportunities?
The screen industries have made inclusivity a priority across a whole range of factors including gender, ethnicity, demographics and geography. Lenny Henry and Marcus Ryder share some stark data in their book Access All Areas: The Diversity Manifesto for TV and beyond:
"Only 29.5% of the UK's population is made up of white, heterosexual, able-bodied men; so why do they still make up the vast majority of people we see in our media?"
"What percentage of the population are white, heterosexual, able-bodied men living in London? … 3.1 per cent."
There is increasing pressure to diversity the screen industries both on and off-screen and the West Midlands has the population and the appetite to fast track this diversification.
By re-imagining the screen industries with a people first perspective we have the opportunity to create a work culture that acts as a magnet for productions and crew. The opportunity is here for us now, to rethink working hours and working practices, encourage flexible and part-time working, enable job shares so that work can work for those who do it.
Additionally, with the increased cost of living, housing in the West Midlands region is relatively more affordable than many other production clusters particularly London/South East and Bristol.
This vision could not only, tempt back the significant number who've walked away from the industry due to working practices. Absent Friends, Scaling the film and TV industry's retention problem report by Film and TV charity highlighted that:
"the number 'missing' older workers (aged 50+) is estimated to be between 24,000 to 35,000"
It also has the potential to attract the Gen Z workers now arriving for work, who are taking one look at the hours and the lifestyle and turning their backs. The Forbes article The Future Of Work Depends On Supporting Gen Z puts this well:
"This emerging generation has higher expectations for the workplace than ever before. They prioritize flexible working arrangements, shared values, higher pay, and increased support for mental health. Gen Zers not only know what they want; they are more likely to seek out new opportunities to get it."
It is no longer the case that there will be a queue of people looking to enter the screen industries. We need to get smart about how we work, or we risk losing this generation of content creating talent to other sectors – not least because there are so many competing opportunities with businesses that need to create their own video content for social media and marketing.
What are the threats?
Time – Time is a major threat. We cannot afford to miss this boat entirely. Not only do we risk not having an industry we risk losing the opportunity to tell the stories of our fantastic region in our own words. Certainly a few ships have sailed. However, there is now some fantastic momentum in the region, particularly Digbeth where the Creative Content Hub will be open shortly, Stephen Knight's Digbeth Loc is under development, and the BBC is moving to the old Typhoo factory, but we need to keep moving. The appetite for content creation has never been stronger.
Education also has a role to play making the industry visible and possible as a destination to our children. And ensuring that this education aligns to the needs and skills of industry. Too many courses focus on producing and directing. A large-scale feature film will likely have 1 director, 3 producers and 250+ crew. If education is focusing teaching on producing and directing we're missing a trick. Pretty much every career under the sun is or can be involved in some way shape or form within a production. There is a role for everyone.
However, probably the biggest threat of all is the scale of our ambition. We need to think big, and I mean really big. Hollywood big. It doesn't come naturally to us as Brummies, but Birmingham 2022 showed us that when we put our minds to it, we can pull out all the stops and do this on a global stage. So now is the time for us to imagine big and JFDI.
I'll give the final word to Sheldon Cooper from the hit TV series, The Big Bang Theory
"Imagination, the world's most powerful computer chip"
About our author:
Alison Grade describes her key skill as transforming creative ideas into a business reality. She accomplishes this with the films she produces, the creative entrepreneurs she mentors, SMEs and freelancers she advises and in her Penguin published book, The Freelance Bible.
Alison has an unique skillset in that she has formal academic training (INSEAD MBA); has worked at senior level in many media companies; is an entrepreneur who has established several businesses and is a Nesta accredited Creative Enterprise trainer and mentor. She brings her passion, knowledge and experience with her in all the work she does.