On 6 May 2021, voters in the West Midlands will have their say on who represents them at Local council level; who will be the Mayor of the West Midlands and who will become the new Police and Crime Commissioner.  In our series of election specials, we hear from the candidates who want your votes.
West Midlands Police and Crime Commissioner election
Thursday 6th May 2021
An article from Jay Singh-Sohal – the Conservative candidate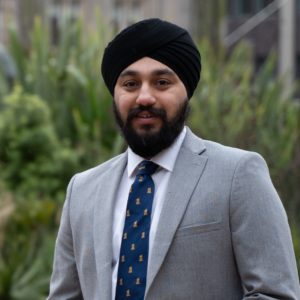 The COVID pandemic over this past year has shone a light on the goodness of the overwhelming majority of people who have gone above and beyond to support their neighbours, loved ones, the vulnerable and our NHS to protect and save life during many, too many, months of crisis.  I myself volunteered in my Army Reserve role on Operation Rescript, the military response to the crisis.
But the pandemic has also exposed a darker minority view based on divisions and prejudice that sadly sits alongside, heightened during these testing times of restrictions and fuelled by distrust and ignorance of people whose faith, customs, beliefs or way of life are not understood. 
And that is currently manifesting itself in the rising hate crime we have seen, with just over 105,000 incidents in England and Wales in 2019/20, up by 8% from the previous year.
Here in the West Midlands, we have seen the seventh successive year of increases in hate crime since it started being monitored in 2012.  There were 6,755 incidents in 2020, a 36% increase on the previous year.  On the ground, it means 18 known hate crime incidents are being reported to the police every day.
At least eighteen occasions where a criminal offence is motivated by hostility or prejudice to a person's race, religion, sexual orientation, disability (visible or not) or against a person who is transgender.  What is not counted is hate crimes against women for being women (misogyny) or indeed men for being men (misandry).
On some of these occasions it is physical violence, such as an attack on 29 year old trainee solicitor Meera Solanki in February 2019 that left her unconscious in the centre of Birmingham.  She had been defending her Chinese friend at the time, who herself was being abused by a racist hurling insults at her about the Covid outbreak.   
On other occasions it is offensive language or abusive online messages, such as that sent to West Bromwich Albion midfielder Romaine Sayers last January by a 49-year-old man. 
I myself have received offensive messages and abuse on social media over the past few years simply because I am a practicing Sikh and Conservative candidate, an uneasy and seemingly unacceptable mix for some people, it sadly appears.
While the statistics reflect those incidents reported to the police, many more people suffer in silence and do not speak out let alone alert the authorities for lack of confidence that they will see justice done.  Or at least unaccepted attitudes and behaviour challenged.
I fear the modern Britain we want to live in is at risk if we cannot protect our diversity and inclusivity  which has always been a source of strength and opportunity.  Our sense of duty and our own moral code has enabled us to improve our society for all.
And I fear for what this means for our diverse West Midlands, a third of which is Black Asian Minority Ethnic (BAME), if we do not address and tackle head on crimes motivated by hatred against people's background and way of life.  
Our sense of "fair play" has often set us apart from other nations where civil liberties are not as well respected.  We must now stand by our age-old values and stand up against hate crime if we are to protect one of the things that defines Great Britain for all in the wake of such struggle and disruption as brought on this year.  
To do so we need strong leadership locally and as close to communities to reflect upon their concerns as possible.  We need to rebuild confidence that hate crime is being taken seriously by police and we need better reporting and innovation when it comes to the data gathered to look for trends and analyse patterns to nip this attitude of indifference and hate in the bud.
We need a Police and Crime Commissioner (PCC) who will set the example and deliver on a dynamic agenda to challenge this criminal behaviour.  That is why it is one of my priorities, and my aim, is to make hate crime in our diverse West Midlands intolerable to us all.  So we call it out when we see it, and eventually we check our behaviour because it will be called out.
That means a number of policy innovations and investments:
Firstly, I will introduce a new specialist hate crime incident line in our region and a physical safe space within our police stations where victims can log the crime and find the help, guidance and counselling they require.  PCSOs will be trained and empowered to provide this support out in the communities they serve.
Secondly those who commit a hate crime will be dealt with through a Restorative Justice approach, driven by the needs of the victim, to seek out-of-court settlements in a timely manner such as micro-aggression training (paid for by the perpetrator) to address the attitudes and behaviours that lead to hate-motivated incidents.  
Thirdly, I will direct West Midlands Police on regular reporting and auditing of hate crime incidents on a monthly basis so that I can hold the police to account for their response to incidents.  I will make data on hate crime incidents open to academics at our local Universities to interrogate the numbers and analyse trends as well as offer innovative solutions on policy and use of technology to tackle the issue.
Tackling hate crime is one of my priorities because it threatens the vibrant fabric of our region and Britain-at-large.  It creates the conditions for immoral and unjust behaviour that fuel attitudes of criminality.  And it breaks down our societal cohesiveness and resilience to outside malign actors – trust me, as a serving Army Captain who works in this field I have seen far worse done with much less by our states' enemies.
So it's not enough to sit idly by and allow hate crime to fester and grow, to gnaw away at our society like another virus.  Covid has already done much damage to our society, yet we have managed to remain positive and galvanise around those values and institutions that bring us together.  
I will root out hate crime by making it intolerable.  It will require strong leadership and innovation.  It will require a West Midlands Police and Crime Commissioner who "gets it" as a representative of our diverse region.  And it will require YOUR support.
We can and must unite on this issue, to rebuild our great region as a place of welcome and harmony after the horrible year we've all had.  We will thrive.  We are after all the engine of our nation.  But we will get there quicker and easier if we come together. 
About Jay Singh-Sohal VR
Jay Singh-Sohal is the Conservative candidate for West Midlands Police and Crime Commissioner.
Capt. Jay Singh-Sohal VR is an Army Reservist and Strategic Communications Director, who's running to become the Police and Crime Commissioner in the West Midlands.  He is a dedicated public servant who serves on a number of charity boards as well as a community organiser.  Born and bred in Birmingham, he went to Handsworth Grammar School and became the first turban-wearing Sikh in mainstream television news at ITV and then Sky News,  He currently works for M&C Saatchi World Services.
Connect with Jay on Twitter
About the role of Police and Crime Commissioners
(Source: What is a Police & Crime Commissioner (PCC)? | Voting Counts)
"The role of a Police and Crime Commissioner (PCC) is to be the voice of the people in policing, and to hold the Chief Constable to account for how he/she discharges their functions. The aim of all PCCs is to ensure the delivery of an effective and efficient police service within their force area"
Police and crime commissioners (PCCs) are elected representatives with responsibility for policing in each police area in England and Wales. Each police area (except for Greater London and Greater Manchester, where the elected mayor is responsible) elects a commissioner every four years.
PCCs are responsible for:
Setting the Police budget
Deciding what the Police's priorities should be
Appointing the Chief Constable, who is responsible for making operational decisions, and holding them to account
Providing strategic oversight to the Chief Constable's decisions
Helping to improve the criminal justice system to support victims and reduce re-offending
Working with other local organisations (e.g. local councils) to provide a joint approach to reduce crime
Work closely with other local emergency services
Act as a bridge between the public and the Police Service
Ensure the Police service is working efficiently and effectively
Making their community a safer place
Further information on the candidates for the role of Police and Crime Commissioner for the West Midlands can be found by visiting the BBC election pages