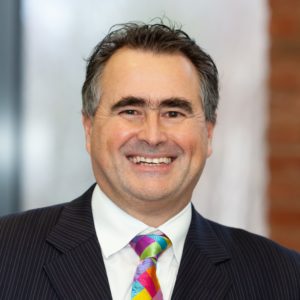 Simon Carter (Marketing and Propositions Director for RM Education, and Non-Executive Director for Coventry University) shares his thoughts on the lessons to be learnt from the Coronavirus shutdown within our school education system – in the Midlands and beyond.
It's no secret that schools have faced unprecedented pressures in the face of the Coronavirus outbreak and deserve our complete admiration for all that they have done.  Every kind of organisation in the global economy has been impacted – each one battling its own individual set of problems – but for those working in schools, those problems are exacerbated further still by the responsibility held for millions of children and their future life chances.
At the end of March 2020 schools were forced to close "until further notice", GCSE and A Level exams cancelled, and schools were told to continue to care for vulnerable children and children of keyworkers – even through school holidays.  Schools quickly went from teaching in an ordinary school, to delivering lessons remotely in a virtual one.
"Prior to the shutdown, neither learners nor staff had any experience with distance/remote learning. This has meant that user adoption and upskilling has proved to be one of the most challenging aspects for us" (Assistant Principal, Secondary Academy School, Dudley)
But if this period has taught us anything, it is that in today's digital age there's no question that school resources need to be available online and teachers and pupils need to be able to access them from home.  Whatever the school of the future will look like, we are pretty sure it will include a combination – a hybrid – of both physical and remote learning.
"Staff and children are so much more confident in using this new technology – simply because they have had to be – they had no choice"  (Computing Lead, Primary School, Dudley)
I work with the leading edTech – RM – and we are one of a number of companies that has supported many schools through this seismic shift.  As part of this, I have spoken with many of these establishments and asked about the lessons they have learnt, along with their hopes for the future:
Technology really can be your friend. Research undertaken by RM before the virus outbreak found that many teachers have historically been reluctant to embrace technology in schools, but the shutdown has made this a necessity.  Whilst every teacher is different, there are now some amazing resources available – for example the Oak Academy – and building this into a lesson plan will not only go some way to alleviate teacher workloads, but also support a much more consistent delivery, freeing teachers up to do what they enjoy – teach.
Technology brings added benefits. Working with some of these new online tools means that teachers are now able to collect and give feedback; as well as harness tools like Microsoft Teams and Google Meet to hold departmental, one to one and Senior Leadership Team meetings; or use the various Forms features to gain feedback from parents – such as when they were planning to send their children back to the classroom – things that can be built upon when teaching returns to some form of normality.
Not all technology is the same. Many schools operate older devices that simply cannot cope with the remote learning platforms they have been forced to adopt – let alone the Government's school luncheon voucher scheme.  Whilst it is never an easy conversation to ask the bursar for a technology refresh, those schools who did this in the lead up to the shutdown, found the shift so much easier.
The cloud is the present not the future. Whilst many schools had started the journey to the cloud before the shutdown, if there is one lasting lesson to come from it, it is that being able to hold files and access them remotely is now essential.  The addition of free Government funding to support those schools without a Google or Microsoft tenancy, makes this all the more of an essential investment – right now – whilst that money is still available.  The cloud provides flexibility – and the simplicity – that a modern school needs – even without the added complication of a global pandemic.
Know who you can call upon. Whilst many schools have their own support teams, and/or work with small local providers, when you are faced with the sort of challenge that a complete school shutdown throws at you, having a broader and more established partner around, can help.  One who has multiple engineers available, should one fall sick, with a team on and offshore that can work whilst you are asleep, and has strategic partnerships with the likes of Microsoft and Google when it is most needed.  As one school commented in the midst of the pandemic – "Having a partner with the breadth and depth of RM has helped me sleep more soundly at night".
Be prepared to lead others at times of adversity. One potentially unexpected finding is that the role of the IT Manager has become much more important within a school.  When the shutdown was first announced, everyone looked to this person to come to the rescue, and as the school has learnt to cope with different types of teaching, the IT coordinator is now included in all the critical strategic meetings within the school – if not leading from the front, at least involved in all the key decisions.
In terms of a legacy, there is a strong hope that some of the changes that schools have made are long-lasting.  Whilst it is a shame that it takes something as dramatic as this to create lasting change, there has to be some good that comes from this shutdown period.
"We have moved forwards more in 12 weeks than we could have done in 5 years". (Computing Coordinator, Primary School, Halesowen)
But (to misquote someone much wiser than I), this is not the end – it is not even the beginning of the end.  We have all seen with the local lockdown in Leicester that this virus is far from going away.  The media is awash with stories about "second spikes", with China, Germany and Australia all taking corrective action to limit that from happening.   Without putting a dampener on this – especially whilst we are sweltering in something of a heatwave – it will not be long before the weather turns, the rain comes, rivers break their banks… and then the snows arrives – all doing their damndest to stop us from teaching our pupils.
To steal another great line – "a Remote Learning platform is not just for a pandemic – it is for snow days too".  Schools must invest for the future, and whatever eventuality is thrown at them.
"Post Covid, children will be more independent in their own learning online and they will have increased confidence in using computers at school.  They will have increased resilience in not giving up and they will persevere if things don't work first time." (Computing Lead, Primary School, Dudley)
About Simon Carter:
Simon is Marketing and Propositions Director for RM Education, and Non-Executive Director for Coventry University, from where he is an alumni.  He is also a Liveryman with the Worshipful Company of Marketors and a Freeman of the City of London.
Connect with Simon on Twitter
Connect with Simon on LinkedIn