On 6 May 2021, voters in the West Midlands will have their say on who represents them at Local council level; who will be the Mayor of the West Midlands and who will become the new Police and Crime Commissioner.  In our series of election specials, we hear from the candidates who want your votes.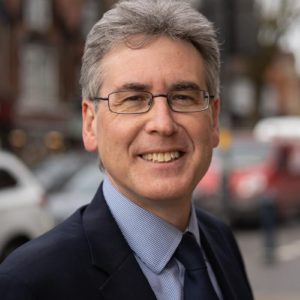 West Midlands Police and Crime Commissioner election
Thursday 6th May 2021
An article from Simon Foster – the Labour candidate
I have pledged to re-build community policing throughout the West Midlands. Why have I done that? I have done that because now, more than ever, we need to invest in building resilient, strong, safe and secure communities; because I believe community policing should always be the foundation stone on which policing is built in this country; and because community policing embodies the founding principle of policing by consent, which is that the police are the public and the public are the police.
Community police officers are our 'bobbies on the beat.' Unfortunately, over the past 10 years, first the Conservative/Liberal Democrat coalition and then the Conservative government were responsible for voting for, supporting and imposing £175million of cuts to West Midlands Police funding. Amongst the many adverse consequences, those cuts resulted in the dismantling of our community policing. That was a big mistake on their part.
In the West Midlands, between 2010 and 2018 we lost 25% of our police officers. That was 2,221 of our police officers in total. There was a reduction in our community police officers of more than 50% from 1,821 officers to 760. We also lost many hundreds of essential police staff, including 297 Police Community Support Officers and nationally, 600 police stations had to close.
In addition, instead of being ring fenced and able to dedicate themselves to their core role in our communities, many of those remaining community police officers have too often been in name only because they have been required to engage in response and investigation duties. The dismantling of our community policing was and continues to be a damaging and significant loss to an essential part of our community infrastructure.
Together with the cuts that have been imposed on our essential preventative public services, such as youth, mental health and drug and alcohol addiction services, and the reckless mismanagement and neglect of our criminal justice system, it was entirely misconceived, counter-productive and a false economy. It has left our overworked and underfunded police service having to pick up the pieces and our communities have been left dealing with the adverse consequences. As a legal aid solicitor of 35 years, I am well aware it has undermined our communities and we have all been paying the price with less justice, safety and security.
As a consequence of the Covid-19 pandemic, people are now facing challenges to their education, finances, mental health, future career and job prospects that are unprecedented in modern times. In these circumstances there is a real concern that, for some, crime and anti-social behaviour might increasingly appear to be an attractive and viable option and that people, particularly young people, are at serious risk of becoming victims of crime, criminal exploitation or offenders.
The Tory government, its elected representatives and candidates, in the face of overwhelming evidence, remain in stubborn denial about the corrosive damage they have been responsible for inflicting on our communities, whether in relation to anti-social behaviour, serious violent crime and everything else in between. During the past 10 years, when our communities were most in need of help and support, successive Tory governments abandoned them, disengaged and withdrew. That is why they cannot be trusted to fix it.
I will not replicate their lack of political will and abject failure to do what is needed. Now is not the time to stand by. Now is the time to step up. We need to put this right and we need to put it right now. There is no time to lose. We must invest in community policing if we are to build the strong, resilient, safe and secure communities we need. We must do that because:
Firstly, visible community policing is an effective way to build communication, confidence, relationships, trust and legitimacy between communities and the police. This will improve community relations and reduce the fear of crime;
Secondly, when the police are part of and able to work proactively with communities, we are all best placed to prevent crime happening in the first place. Problems can be dealt with before they become emergencies. The prevention of crime is always better than having to deal with the consequences of crime; and
Thirdly, community policing provides the opportunity for multi-agency working with local authorities, schools, youth services, mental health services, housing providers and others – but most importantly with communities themselves – to help identify problems, enable early intervention, address the underlying causes and identify long term solutions.
Let's rebuild community policing. The people of the West Midlands want to re-build community policing. I want to rebuild community policing. I will start with an extra community police officer in every Ward throughout the West Midlands. My top priority will always be justice, safety and security for all of our people, communities and regions of the West Midlands.
About Simon Foster
Simon Foster is the Labour candidate for West Midlands Police and Crime Commissioner.
Simon has been a legal aid solicitor for 35 years. He has worked in a Community Law Centre and in private practice.  He was a partner in a legal aid law firm for 22 years. Simon specialises in Housing and Public Law. He represents people who are at risk of eviction from their homes, those living in poor housing conditions and the homeless. 
Connect with Simon on Twitter
About the role of Police and Crime Commissioners
(Source: What is a Police & Crime Commissioner (PCC)? | Voting Counts)
"The role of a Police and Crime Commissioner (PCC) is to be the voice of the people in policing, and to hold the Chief Constable to account for how he/she discharges their functions. The aim of all PCCs is to ensure the delivery of an effective and efficient police service within their force area"
Police and crime commissioners (PCCs) are elected representatives with responsibility for policing in each police area in England and Wales. Each police area (except for Greater London and Greater Manchester, where the elected mayor is responsible) elects a commissioner every four years.
PCCs are responsible for:
Setting the Police budget
Deciding what the Police's priorities should be
Appointing the Chief Constable, who is responsible for making operational decisions, and holding them to account
Providing strategic oversight to the Chief Constable's decisions
Helping to improve the criminal justice system to support victims and reduce re-offending
Working with other local organisations (e.g. local councils) to provide a joint approach to reduce crime
Work closely with other local emergency services
Act as a bridge between the public and the Police Service
Ensure the Police service is working efficiently and effectively
Making their community a safer place
Further information on the candidates for the role of Police and Crime Commissioner for the West Midlands can be found by visiting the BBC election pages