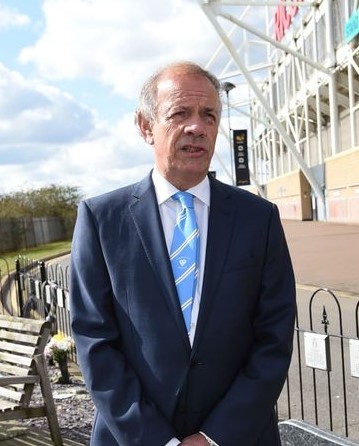 Joe Elliott MBE is one of the City of Coventry's most respected and well known figures.
Joe has had a significant career within the motor industry; has played a leading role across the region's sporting, cultural and heritage offer and has been a Board Member or Trustee of a number of the region's charitable organisations.
Having created Elliotts store in Coventry and then as founder chair of the 200 store 'A1 Motor Store Group', Joe has always been a valued and influential voice within the industry; including a long spell representing the aftermarket with the Society of Motor Manufacturers and Traders (SMMT).  Such is Joe's reputation within the motor industry aftermarket that a recent industry magazine voted him as the sector's '9th most influential person of all time'.
Joe has been a major part of his beloved Coventry City Football Club; including roles as Chair of the Vice Presidents Club and as an Associate Director.  Joe was elected to the main Coventry City board in 2002 and subsequently as Chairman in 2007.
In 1986, Joe was elected to the board of Coventry Transport Museum and spearheaded the move to trust status as period as Chairman (1999-2013).  Joe is also a director of Jaguar Daimler Heritage Trust and Culture Coventry.  Joe still works for a broad range of organisations in Coventry and is a business advisor to many company directors across a vast range of sectors.  In 2014, Joe was awarded the MBE for his 'services to museums'.
Joe remains a keen sportsman; still follows Coventry City and Warwickshire County Cricket Club and has extensive connections across sport and the media.