At the Centre for the New Midlands, our key areas of research interest are 'Digital'; 'Culture, Media and Sport'; 'Housing and Communities'; 'The Great Recovery'; 'Environment, Transport and Infrastructure' and 'Devolution and Governance'.
We are delighted to introduce Professor Ardavan Amini, Chair of our 'Digital' Leadership Board.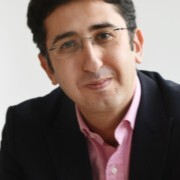 The West Midlands – the birthplace of the first industrial revolution in late 1700 century which made Britain the world's leading commercial nation.  Here we are now in 2021 and on the brink of the4th industrial revolution in which digital technologies are embedded at the heart of our cities, communities and businesses strategies and operations.  Our nation and the region is faced with significant challenges of COVID-19 response; climate change; health and mental wellbeing; cyber security and the growing demand to foster innovation and economical growth, providing prosperity and enhancing the quality of life in an increasingly diverse and multi-cultural society.
Living in the West Midlands for the past 30 years, my passion and desire has always been to see prosperity and growth for the region. I have been involved and initiated a number of projects and initiatives within the region over the past 15 years where I have had the opportunity to understand the digital challenges such as connectivity, productivity, infrastructure, innovation, skills and governance.
My journey as a complex adaptive system engineer started in 1991, where I was fascinated with the world of maths, physics and philosophy in addressing real world challenges. I developed my first programming applications in QBasic, Delphi and Pascal, and continued my research and studies in the field of business systems in 2004, where I joined the Technology Innovation Centre at Millennium Point as senior technology consultant working with Advantage West Midlands (AWM), Manufacturing Advisory Service (MAS), Greater Birmingham Chamber of Commerce (GBCC) and West Midlands Technology Network (WMTN) leading and delivering projects and programs to assist and address the digital challenges of SMEs within this region.
In 2007, I started my research in the field of systems engineering, agent-based technologies and Knowledge Base Engineering (KBE) and travelled to the US to gain training in symbolic languages mainly LISP programming and generative complex adaptive system working with Technosoft Inc and the KBE Lab at Birmingham City University.  This resulted in the delivery of a number of successful projects within KBE and complex adaptive systems working on Rolls Royce's Key system at Derby, using the principles of systems engineering and digital technologies.
In 2010, I established the International Academy of Enterprise Innovation (IAEI) in joint collaboration with SAP which resulted in my appointment as a Chairman of SAP UK & Ireland Business Transformation and Innovation Special Interest Group, as well as chairing the SAP S/4 HANA Special Interest Group working with portfolio of regional and national companies senior executives such as Atos, Capgemini, PWC, Deloitte and IBM enabling SAP customers with knowledge transfer, systems adaptation and transformation to address their business challenges.  During this time, I had the pleasure of working with world experts in systems thinking and enterprise systems such as Professor Larry Leifer at Stanford University and Professor Helmut Krcmar at Technical University of Munich on projects such as the Sugar Network and SAP Global University Alliance (UA), developing industry 4.0 curriculum for 2000 universities globally.
I was invited to join the local government to lead and assist Birmingham's Smart City strategy and vision including the development of a number of projects that feed into the regional and national agenda on smart cities such as Young Rewired State hub, Innovation Engine and in particular founding the West Midlands Open Data Forum, formulating the open data policy, setting up the ODI node for the region in collaboration with Innovation Birmingham and Birmingham City Council. I was then asked to join the Old Oak Common and Park Royal Development Corporation (OPDC) and the Greater London Authority (GLA) smart city working group by the Chairman of Hypercat.
During my involvement with the smart city projects across the country, I started working with the MIT digital Media lab program on Beyond Smart Cities which led me to engage with other city authorities and decision makers across the world and enhance my understanding of the societal needs to address businesses and citizen challenges.  I also joined the Institute of Collaborative Working by invitation from the Chairman of ICW, to promote collaborative working across the region and achieving ISO 44001 Leadership certification.
I joined the West Midlands Combined Authority (WMCA) inauguration in 2016 as a panelist and an expert in digital technologies, as part of the devolution regional agenda, working with Bob Sleigh (Chairman of the WMCA Board) and its CEO, Professor Martin Reeves.  I was awarded a Professor of Enterprise Systems at Birmingham City University in 2016 for my contribution and impact within the region.
In 2017, I was appointed as honorary head of Enterprise Engineering Department at Leading Practice; a global company working with NATO, US and UK Governments, including aerospace and defence in stablishing ISO 1401, 1402 and 1403 Enterprise Architecture Standards.  In addition to collaborating with Object Management Group (OMG) and international standard bodies in development adaptive business models and artefacts including value models, innovation models, productivity, cost and sustainability models.
Working across the region, it is evident that there is a huge talent pool; the technological and business capabilities exist with a desire to succeed, however, there is a significant gap in regional alignment, including thought leadership, skills and expertise to apply and adapt technologies with a coherent approach based on the regional strategy at macro and micro level.  The challenge facing our region is to increase innovation, productivity and value.
I was invited to join the Centre for the New Midlands to bring my expertise and regional, national and international network to help shape the 'Digital' workstream.  The theme is one of the think tank's priority areas of research and we will provide independent support and guidance to support the region's digital and technology policy makers with strategic frameworks; thought leadership and high quality content in addressing today's social, industrial and economic challenges.  The core areas covered by the Digital workstream include infrastructure, cyber security, emerging technologies, artificial intelligence, innovation, XR/VR, Games Technology, IoT and complex adaptive systems with each area being led by experts from industry and academia.  I look forward to introducing you to the team over the coming month.
However, regardless of our best intentions – we can't do this alone of course.  We look forward to working with you to shape a New Midlands across the Digital environment and I would welcome your thoughts on how we can add further value to help enhance the region that we all have a passion for.