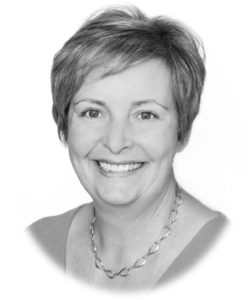 When the different voices of the United Kingdom are heard, it is often remarked that London shouts the loudest, then "the North", with the Midlands and the other regions (and nations) too often forgotten.
We are delighted to introduce Debbie Newbould (pictured) Mark Hadfield and Andrew Jerina who, through the Meet the 85% project, are determined to give a voice to all of Britain, with a recent particular focus on the Midlands.
There's no doubt that perceptions of the Midlands are changing, that we are more vocal than ever as a region, that things like the Commonwealth Games in Birmingham or Coventry being City of Culture are transforming how we are seen, indeed, making sure that for once we are being seen.
But it is also true that the national conversation often centres on London and beyond that a distinction between London and "the North". There is more work to do to ensure th at the Midlands is a leading part of the conversation, and more still that the voice of the region is led by the people who live here.
Our initiative, Meet the 85%, was founded on the principle of addressing London bias and giving a louder voice to the 85% of people who live outside of the capital. Supported by Flume, a Shirley based market research business, it has a particular interest in the voices of the Midlands.
Meet the 85% is an ethnographic research company that captures the lives of the people we meet via photography, audio and video. We visit people in their natural environments and spend a few hours discussing the big (and small) issues in their lives at that moment. As brand strategists and market researchers our role is to listen to the wider context of people's lives and understand the role of brands within that. Brands and products don't operate in a vacuum : understanding the wider context gets us closer to helping our clients, who range from FMCG to finance, white goods to wine make better decisions about their brands and products. In our initiative we start to see people as people not consumers and go deeper into their lives. We primarily reflect what is happening outside London to shape decisions that are often made in London.
Over the past 12 months we have spent time in the homes of a range of people across the Midlands, asking them about their lives, their struggles, their hopes for the future. It's a difficult time for many, but as people in this region have always been, they remain resilient and hopeful for the future.  We can only provide a small taste of some of the stories people told us about their lives here, but they speak to the diversity and strength of our region, how it continues to change, and the challenges we face for the future.
Here are some interesting findings we took from our conversations around the region:
Post-COVID lives are reshaping families, communities and high streets
We chatted with Abigail Wrigley who is 42 years old (not her real name).
Abigail lives in Shirley with her family – two boys and her husband. Her life is a content one, with COVID having accelerated some career decisions for her. She left her career as Cabin Crew – something she loved but was starting to interfere with her family life more and more – and became a receptionist at a GP practice. Something that by her own admission wasn't as exciting, but was enjoyable nonetheless. Her new job meant she could spend more time at home, becoming more of a traditional home maker in some impressionable years for her sons – something she was relishing. When it came to discussing her new colleagues, her need for a sense of community and camaraderie shone brightly – replacing that from the Cabin Crew with new friends at the GP practice.  Her new job means she's at home and the local area more than she was previously. Something which has changed the family shopping habits, and her daily habits too. What could this mean for her local high street?
Progression yet the feeling of being underappreciated
We chatted to Faith Stevens, a 61-year old retiree.
Faith's parents were part of the Windrush Generation, and they were the only black family on their street growing up back in the 60s and 70s.
Faith followed her mum into nursing and then midwifery where she spent over forty years working in local hospitals, helping to deliver countless babies into the local area.
She talked about how proud she was of her children – one a lawyer, another a cyber security expert and one studying at university – a brilliant example of social mobility in only a generation or two. However, Faith felt her service in the NHS had not been properly recognised, working over forty years but only receiving a token gift as a leaving present – something she quickly told us about when we arrived in her home.  More alarmingly still, when she opened up she shared the fact that even in 2023 she still faced racist micro-aggressions on a near-daily basis and struggled to feel at home in the UK outside her own family home. Should someone who has given so much to the local community feel this way?
A region of contradictory and complementary beliefs and behaviours
Whilst more quantitative methods of research can sometimes tend to focus on the aggregates and averages, speaking to individual respondents can highlight both complementary parts of their lives, but also wide contradictions.  During our visit we met with Shaun and Jason in their respective homes, and discussed everything from fashion to relationships. They had huge areas of overlap in their lives, but also huge differences. Jason thought he'd move into his home and "settle down with someone" but was still dating as he hadn't found that elusive life partner, with his mum still helping him with his laundry. Shaun on the other hand talked of his admiration for Andrew Tate's views on women. Two men we believe trying to find their personal identities, and grappling with what role modern masculinity plays in their lives.
Those findings are only some of the insights we gathered on our 48hr road trip. One of the big benefits of visiting people's homes to interview and observe them is how deep the conversations can go, and how much you can observe. In a short amount of time you can hear so many interesting stories – it's possible to understand and empathise with them on a deep level.  And what we heard and saw in the Midlands was anything but middling.
With special thanks to Mark Hadfield (Founder of Meet the 85%), Debbie Newbould and Andrew Jerina who run Flume, which partners and powers Meet the 85%.
ABOUT OUR AUTHOR:
Debbie is proud to call herself a market researcher and has spent her career listening to people talk about themselves and unpicking which brands they use and why. 20 years ago she set up a market research agency (called One-MS) in Solihull. She set the agency up because she wanted a career move and back then there were few agency options she could work at in the Midlands.
Two years ago the agency re-badged as Flume. Flume offers both qualitative and quantitative research and is delighted to work on lots of global brands both in the UK and around the world. Flume's client list spans from Unilever to BNPP, Samworth Brothers to Beko, Premier Foods to Greene King. Flume has 4 founding principles that are grounded in evidence about human behaviour and decision making. We use these principles to help makes brands easier to think of, buy and use.
Debbie is an award winning researcher having recently won the prestigious AQR award for research excellence. In 2022 Flume was winner of West Midlands Tech award for use of tech in professional services and Highly Commended in Market Research Society for Business Impact.