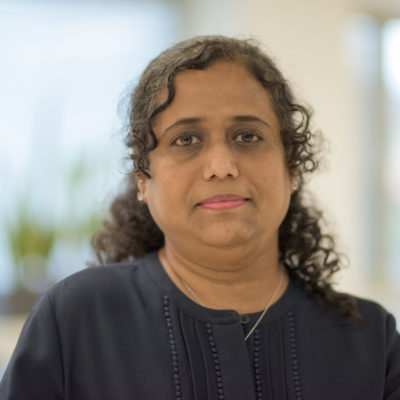 Dr Anandhi Vivek Dhukaram is recognised as the top 30 AI thought leaders in innovation, strategy, and digital transformation by Thinkers360. She has led transformational experiences across the government, NHS, private sector, and start-up portfolios.
Dr Anandhi brings a unique blend of research, technical, and business expertise from academia and industry. She is passionate about helping organisations build AI capabilities by empowering teams and leveraging collective intelligence to accelerate AI adoption, drive innovation, and achieve sustainable transformation.
Dr Anandhi leads on the Centre's work around AI, Innovation and Data Analytics.
She specialises in AI innovation and transformation, developing strategic agility that creates a sustainable differential advantage for businesses through cognitive systems engineering, human-centred design, and industry best practices for innovation, design and strategising of intelligent systems. She has successfully built a rich capability of people, business models and strategies to gain a competitive edge.
Drawing on her 25 years of academic and professional expertise, Dr Anandhi has founded Esdha to help organisations harness the potential of generative AI for improved operations and efficiency. Through Esdha, Dr Anandhi offers AI literacy training, coaching and consultancy for identifying AI use cases, orchestrating cultural change and crafting strategic visions, and ensuring that AI solutions are aligned with ethical and responsible AI practices.
Dr Anandhi is also an organiser at BrumAI – a not-for-profit community of 2000+ AI leaders, ML experts, and enthusiasts. She helps to foster collaborations for AI innovation by uniting individuals, academia and organisations in the West Midlands.